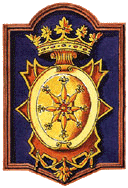 ANNE OF CLEVES
Queen of England

Born: 22 Sep 1515, Düsseldorf, Cleves, Germany
Died: 16/7 Jul 1557, Chelsea Old Palace, England
Buried: Westminster Abbey, London, England
Father: John III of Cleves (D. Cleves)
Mother: Marie of Julich
Married : HENRY VIII TUDOR (King of England) 6 Jan 1540, Greenwich, England ANNULMENT Jul 1540
---

The painting of Anne
by Hans Holbein the Younger (1497-1543)
It was on the basis of this portrait that Henry VIII chose her to be his fourth Queen.
Watercolor on parchment mounted on canvas. 65x48 cm.
Paris, Musee du Louvre
---
Henry VIII remained single for over two years after Jane Seymour's death, possibly giving some credence to the though that he genuinely mourned for her. However, it does seem that someone, possibly Thomas Cromwell, began making inquiries shortly after Jane's death about a possible foreign bride for Henry.
Henry's first marriage had been a foreign alliance of sorts, although it is certain that they two were truly in love for some time. His next two brides were love matches and Henry could have had little or no monetary or political gain from them.
Duke William of Jülich-Cleves-Berg

engravingfrom Heinrich Aldegrever

Unknown woman by Hans Holbein the Younger, thought to be Amelia of Cleves.

But the events of the split from Rome left England isolated, and probably vulnerable. It was these circumstances that led Henry and his ministers to look at the possibility of a bride to secure an alliance. Henry did also want to be sure he was getting a desirable bride, so he had agents in foreign courts report to him on the appearance and other qualities of various candidates. He also sent painters to bring him images of these women.

Hans Holbein, probably the most famous of the Tudor court painters, was sent in 1539 to the court of the Duke of Cleves, who had three sisters: Sybilla, Amelia and Anne. When Holbein went, Cleves, a dukedom located on the Dutch-German border, was seen as an important potential ally in the event France and the Holy Roman Empire (who had someone made a truce in their long history of conflict) decided to move against the countries who had thrown off the Papal authority. England then sought alliances with countries who had been supporting the reformation of the church. Several of the Duchys and principalities along the Rhine were Lutheran.

Anne was born in 1515 in Düsseldorf, the second daughter of John III of the House of La Marck, Duke of Jülich, Cleves, and Berg, Count of Mark and Ravensberg (who died in 1538), and his wife Maria, Duchess of Julich-Berg (b. 1491 – d. 1543). She grew up living in Schloss Burg on the edge of Solingen. Anne's father was influenced by Erasmus and followed a moderate path within the Reformation. He sided with the Schmalkaldic League and opposed Emperor Carlos V. After John's death, Anne's brother William became Duke of Jülich-Cleves-Berg, bearing the promising epithet "The Rich". In 1526, her elder sister Sybille was married to John Frederick, Elector of Saxony, head of the Protestant Confederation of Germany, considered the "Champion of the Reformation", and as he had given mortal offence to the Emperor by his acceptance of the Duchy of Guelders.

At the age of 12 (1527), Anne was betrothed to Francois, son and heir of the Duke of Lorraine while he was only 10. Thus the betrothal was considered 'unofficial' and was cancelled in 1535. Her brother William was a Lutheran but the family was unaligned religiously, with her mother, the Duchess Maria described as a "strict Catholic". The Duke's ongoing dispute over Gelderland with Emperor made them suitable allies for England's King in the wake of the Truce of Nice. The match with Anne was urged on the King by his chancellor, Thomas Cromwell. Holbein painted the sisters of the Duke of Cleves and Henry decided to have a contract drawn up for his marriage to Anne.

Finally, on 6 Oct 1539, the marriage treaty with Cleves was finalized, this was just 2 months after Holbein delivered his portrait. Princess Anne was now destined to be Queen of England. It was the fulfillment of Cromwell's domestic and foreign policies. On 11 Dec, Anne was at Calais waiting for a favorable wind to carry her to Dover. She was there for almost two weeks while Henry waited at Greenwich. Finally, on 27 Dec she landed at Deal - then traveled to Dover and Canterbury before arriving at Rochester on 1 Jan 1540. Henry, desperate to see his bride in person, rushed in disguise to meet her 'to thus nourish love', he told Cromwell.

Sybille of Cleves, older sister of Anne of Cleves

by Lucas Cranach
Schlossmuseum, Weimar.

John Frederick, Elector of Saxony

by Lucas Cranach
Anne arrives to England recorded by Eustace Chapuys.
Of particular interest is Henry's trick at their first meeting and Anne's reaction, undoubtedly a humbling experience for the King.
1539
This year on St John's Day, 27 Dec, Lady Anne, daughter of the Duke of Cleves in Germany, landed at Dover at 5 o'clock at night, and there was honorably received by the Duke of Suffolk and other great lords, and so lodged in the castle. And on the following Monday she rode to Canterbury where she was honorably received by the Archbishop of Canterbury and other great men, and lodged at the king's palace at St Austin's, and there highly feasted. On Tuesday she came to Sittingbourne.
1540
On New Year's Eve the Duke of Norfolk with other knights and the barons of the exchequer received her grace on the heath, two miles beyond Rochester, and so brought her to the abbey of Rochester where she stayed that night and all New Years Day. And on New Years Day in the afternoon the king's grace with five of his privy chamber, being disguised with mottled cloaks with hoods so that they should not be recognized, came secretly to Rochester, and so went up into the chamber where the said Lady Anne was looking out of a window to see the bull-baiting which was going on in the courtyard, and suddenly he embraced and kissed her, and showed here a token which the King had sent her for New Year's gift, and she being abashed and not knowing who it was thanked him, and so he spoke with her. But she regarded him little, but always looked out the window.... and when the King saw that she took so little notice of his coming he went into another chamber and took off his cloak and came in again in a coat of purple velvet. And when the lords and knights saw his grace they did him reverence.... and then her grace humbled herself lowly to the king's majesty, and his grace saluted her again, and they talked together lovingly, and afterwards he took her by the hand and led her to another chamber where their graces amused themselves that night and on Friday until the afternoon.
....So she came to Greenwich that night, and was received as queen. And the next day, being Sunday, the king's grace kept a great court at Greenwich, where his grace with the queen offered at mass, richly dressed. And on Twelfth Night, which was Tuesday, the king's majesty was married to the said queen Anne solemnly, in her closet at Greenwich, and his grace and she went publicly in procession that day, she having a rich coronet of stone and pearls set with rosemary on her hair, and a gown of rich cloth of silver, richly hung with stones and pearls, with all her ladies and gentlewomen following her, which was a goodly sight to behold.
When she arrived Henry was so eager to see her that he raced to where she was staying and burst in upon her unannounced. Anne didn't speak English, didn't know who this fat stranger was, and was busy watching something out the window, so she more or less ignored Henry. The king's pride was wounded. "I like her not!" he told all and sundry. He found her ugly - downright repulsive - and the last thing he wanted to do was marry her.

A Miniature of Anne of Cleves
Painted by a follower of Holbein (or perhaps Holbein himself)
Victoria and Albert Museum
But Henry couldn't wriggle out of his treaty with Cleves. The wedding took place on Jan 6, 1540 with the groom protesting every step of the way.
Poor Anne of Cleves - barely able to speak English, in a foreign land, and despised by her intended husband! The confused woman was led to a private marriage ceremony at Greenwich and, then, to her equally humiliating marriage-bed. The union was not consummated, a subject which Henry was firm upon - he spoke openly of how disgusted he was ('struck to the heart' by distaste, he 'left her as good a maid as he found her'). They lay together for the entire length of their marriage but were never physically intimate. At first Anne had no idea that her husband was displeased with her. She told her ladies, "Why, when he comes to bed he kisseth me, and taketh me by the hand, and biddeth me 'Good night, sweetheart'". Her lady, Eleanor Paston, Countess of Rutland, had to tell her that this wasn't enough to cause a pregnancy.After a few months had passed, the French-Imperial alliance showed signs of cooling and Henry's natural boldness had returned. He wanted out of this fourth marriage - and told Cromwell to arrange it.

Eventually Anne learned that her husband wished to be rid of her, calling her a "Flanders Mare". She was shrewd enough to realize that her life was in danger. To Henry's amazement, she cooperated with his desire to have the marriage annulled. Four months after their marriage, Henry found a new mistress, Catherine Howard, who was, like so many of his previous wives, his Queen's lady in waiting. In Jul of the same year Henry had the marriage terminated on the grounds that he did not consent inwardly to the marriage, and because Anne had once been engaged to the Duke of Lorraine's son. On 9 Jul, Parliament declared the marriage null and void and Anne, surprising Henry and the court, was content to be called 'sister' and receive a handsome income and household in England. Henry was so pleased with this unexpected docility that he gave her status second only to his daughters, Princesses Mary and Elizabeth, both of whom came to befriend Anne.

Another portrait of Anne.
Fom the workshop of Barthel Bruyn the Elder in Cologne
Recent x-rays have revealed a longer nose under the top layer of paint.
Now at St. John's College Oxford
Relieved, the former queen received a generous settlement, including Richmond Palace, and Hever Castle, home of Henry's former in-laws, the Boleyns. Anne remained in England, and never remarried. Henry called her his sister and often invited her to court. Anne was given an allowance of £4 000 per year which included two houses and a household staff. This settlement satisfied and releived her, as once she realized that Henry was out to end their marriage she was sure that she would follow in the steps of the ill-fated Anne Boleyn. She could have returned home, but she chose to remain in England rather than return to live under the control of her brother. She had more freedom in England than she would have had in Cleves, and if she had returned home she would have forfeited her settlement. Three months after the divorce, it was reported by the French Ambassador that "Madame of Cleves has a more joyous countenance than ever. She wears a great variety of dresses and passes all her time in sports and recreations." (It is likely she found Henry as unattractive as he found her). She and the King remained friends, and she was close to his children. She continued her friendship with Henrys daughter Mary, who was her own age, and also took his younger daughter Elizabeth under her wing. Even after the annulment, the Lady Elizabeth would continue to visit her former stepmother at Richmond. After Catherine Howard was beheaded, Anne and her brother, the Duke of Cleves, pressed the King to remarry her. Henry quickly refused to do so. She seems to have disliked Catherine Parr, and reportedly reacted to the news of Henry's sixth marriage with the unkind joke "Madam Parr is taking a great burden on herself". In Mar 1547, Edward VI's Privy Council asked her to move out of Bletchingley Palace, her usual residence, to Penshurst Place to make way for Thomas Cawarden, Master of Revels. They pointed out that Penshurst was nearer to Hever and the move had been Henry VIII's will. She was later to ride with Elizabeth at Mary's coronation.
That was her last public appearance. As the new Queen was a strict Catholic, Anne yet again converted her religion, now becoming a Roman Catholic. A few months later, Anne wrote to Mary I to congratulate her on her marriage to Felipe of Spain. Nevertheless, Anne rarely visited the Court during Mary's reign and enjoyed managing her own estates.
Since her arrival as the King's bride, Anne had never left England: both of her parents had died by the time her marriage was annulled and her brother, a strict Lutheran, did not approve of her adherence to Anglicanism. As a woman of means, she had the freedom to do as she pleased, and because she never remarried, she never again had a manfather, brother, or husbandwhose orders she had to obey.
When Anne's health began to fail, Mary I allowed her to live at Chelsea Old Manor, where Henry's last wife, Catherine Parr, had lived after her remarriage. Here, in the middle of Jul 1557, Anne dictated her last will. In it, she mentions her brother, sister and sister-in-law, as well as the future Queen Elizabeth, the Duchess of Norfolk and the Countess of Arundel. She left some money to her servants and asked Mary and Elizabeth to employ them in their households. She was remembered by everyone who served her as a particularly generous and easy-going mistress.
Anne died at Chelsea Old Manor on 16 Jul 1557, eight weeks before her forty-second birthday, seventeen years after she and Henry divorced. The cause of her death was most likely to have been cancer. She was buried in Westminster Abbey, on 3 Aug, on the opposite side of Edward the Confessor's shrine. She is the only wife of Henry VIII to be buried in the Abbey.