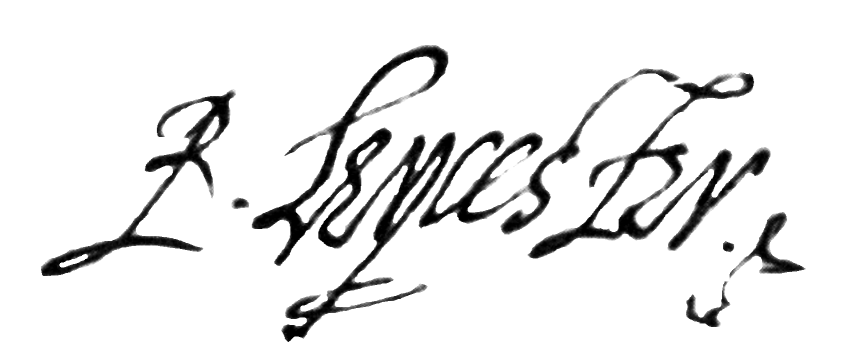 Robert DUDLEY
(1st E. Leicester)
Married 2: Douglas HOWARD (B. Sheffield of Butterwick) 1573 secretly Divorce
Children:
Married 3: Lettice KNOLLYS (C. Essex/C. Leicester) 21 Sep 1577/8, Wanstead, Essex, secretly and bigamously
Children:
2. Robert DUDLEY (B. Denbigh) (b. 1579 - d. 1584)
---

Robert Dudley, Earl of Leicester,
Oil on panel. 110 x 80 cm.c. 1564
In the background are the devices of the Order of Saint Michael and the Order of the Garter;
Robert Dudley was a knight of both
At Waddesdon, The Rothschild Collection
---
The Dudley family produced three generations of men whose careers spanned almost the entirety of the Tudor dynasty. The three men, Edmund, John, and Robert Dudley, all had these traits in common: they were highly self-interested, concerned for their family's future and position, all possessed the ability to win over the confidence of their sovereigns. His grandfather, Edmund Dudley, was financial minister to Henry VII. Similarly, his father, John Dudley, served as Privy Councillor and Knight of the Garter to Edward Seymour, who made him Earl of Warwick. He was also appointed as Duke of Northumberland by Edward VI. Unfortunately, both his father and grandfather were eventually executed for treason. Robert's life would prove to follow a similar pattern.
Although contemporaries believed that Robert was born on the same day, in the same year, as the Queen Elizabeth, it is more likely that he was at least a year older. Recent calculations put his birthday on the 24th of Jun 1532. He was the son of John Dudley, Earl of Warwick, Duke of Northumberland, and the most powerfull man of England during the reign of Edward VI, and Lady Jane Guildford. Robert was the fifth child of thirteen, but not all his siblings survived into adulthood, and even of those that did, only Ambrose, Mary and Catherine survived into the reign of Elizabeth I. Little is known about Catherine, who became Countess of Huntingdon following her marriage to Henry Hastings, Earl of Huntingdon, but perhaps the interest in Mary comes from the fact that she was the mother of the famous poet, Sir Phillip Sidney. Robert grew up on the outskirts of London, and summered in the country side of his birthplace and Sussex.
Robert first met Elizabeth when he was eight years old, perhaps when they were both pupils in the royal classroom. They became good friends, and their friendship lasted throughout their lives. Robert was an intelligent boy, certainly a match for Elizabeth intellectually, but he had little interest in the Classics. Educated, like all his brothers, by John Dee, his passion, even as a youngster, was mathematics, astronomy, and astrology. He was also an incredibly gifted horseman, and nurtured this gift all his life. Speaking of his childhood relations with Elizabeth later in life, he said that "he knew her better than anyone else from when she was eight years old". He also added: "and from that age she always said that she would never marry".
In Jun 4 1550, Robert married Amy Robsart, the daughter of Sir John Robsart of Syderstone, a Norfolk squire. Traditionally, their marriage has been seen as a love-match, but a clause in the marriage treaty suggests that it may have been for less romantic reasons. Robert was the fifth son, and therefore any marriage that could be secured for him would be advantageous. It was easier to marry off daughters than it was younger sons, as they were often not heirs to their father's lands and titles. Amy herself was an heiress, so the marriage was even more desirable in that respect. The wedding was celebrated with great style, and was attended by Elizabeth, and the Boy King Edward VI himself.

His marriage to Amy Robsart brought him lands in Norfolk, where he seems to have taken up residence and where he had his first experience of administration. It was his adopted county which also provided Dudley with a seat in the House of Commons. When, in the autumn of 1551, vacancies were filled in preparation for the fourth and final session of the Parliament first summoned in 1547 he was by-elected as a knight of the shire in place of Sir Edmund Knyvett, who had died in 1550. The return of one still under age hardly accorded with the professed purpose of the operation, to supply 'grave and wise men' to repair the disorder associated with 'sundry young men and others of small judgment', but in Dudley's case the only thing that mattered was his parentage. On 12 Apr 1552, with Sir Francis Russell and Sir John Cheke, he was required by the House to intercede with the Duke of Suffolk on behalf of the duke's servant Ralph Ellerker, after Ellerker's discharge for his assault on Sir Robert Brandling. It was to be the same story in Mar 1553, when the election of Dudley and Sir Thomas Radcliffe, Lord Fitzwalter, may have represented an agreed division of the Norfolk seats between Dudley's father, now Duke of Northumberland, and Fitzwalter's, the son of the 2nd Earl of Sussex.

When Robert was nineteen his father had him made one of the Gentlemen of the King's Privy Chamber to King Edward VI. This implies he spent a good deal of time at court.

Shortly before Edward VI died Dudley was granted lands in Northamptonshire and Leicestershire and licensed to retain 50 men in his livery. It was clearly his father's intention that he should raise Norfolk for Jane Grey and within a few days of the King's death the Spanish Ambassador reported that he was attempting to seize Mary. This seems to have been only a rumour and Dudley's main objective was the town of Lynn: there he was at least partially successful but the capture of Northumberland himself made the exploit useless. On 20 Jul 1553 the Privy Council ordered the town authorities to apprehend Dudley and his followers and three days later he was committed to the Tower. In Sep he was allowed a visit from his wife but early in Jan 1554 he was indicted before the commissioners of oyer and terminer at Norwich and on 22 Jan at the London Guildhall he pleaded guilty to treason and was sentenced to death.

Robert was imprisoned with his brothers in the Tower of London. He was kept in the Beauchamp Tower, which was only a walkway from the Bell Tower, where Elizabeth was herself a prisoner after the rebellion of Thomas Wyatt. Legend has it that they saw a lot of each other during at this time, and their friendship turned to love, but this is unlikely, given that both were strictly guarded. John Dudley went to the block, and Guildford was executed along with Lady Jane following Wyatt's rebellion. The Queen had doubtless already decided to spare him, and not even Wyatt's rebellion caused her to change her mind: after a further nine months in the Tower with his brothers he was released on 18 Oct 1554 and pardoned on 22 Jan 1555.

After a year's imprisonment, in Jun 1555, they were released, probably following the death of their mother in 1555. John Dudley, the eldest son, died shortly afterwards, but in the fall of that same year he became a junior member of entourage of King Felipe of Spain, whom Queen Mary had married. Ambrose, Robert and Henry jousted at court at one of the Anglo-Spanish tournaments held between Dec 1554 and Mar 1555. In Jan 1557, when conflict between France and Spain arose Dudley again offered his service, raising an army for Felipe. He did this in exchange for the return of his families estates, which had been withdrawn when John Dudley was executed. As his father did before him he was able to overcome their insidious family legacy and rise again to a powerful station. Henry and Robert Dudley joined the forces of Felipe II and went to fight in France and took part in the battle of St. Quentin, where Henry was killed. Robert then returned to England; on 17 Mar of that year he arrived in London with despatches from King Felipe. For these services Dudley together with his brother Ambrose and sisters was restored in blood by Act of Parliament (4 and 5 Phil. and Mary, c.15) on 7 Mar 1558. At some point during Mary's reign, it seems that he sold some of his land to help Elizabeth out of financial difficulty. He was struggling financially himself, and Elizabeth never forgot his sacrifice. Lord Paget, the most trusted of Felipe's English councillors, may well have played a role in all this. Robert was and remained a close friend of Paget's sons, the younger of whom recalled some twenty years after these events the Duchess of Northumberland's affection for him and Robert's respect for his father. One observer even saw Paget's hand behind various of Robert's manoeuvres early in Elizabeth's reign.

With the accession of Elizabeth to the throne in 1558, his fortunes changed. He was made Master of the Queen's horse, a prestigious position that required much personal attendance on the Queen, as well as organizing her public appearances, progresses, and her personal entertainment. This position suited him perfectly. Not only was he a skilled horseman, but was a great athlete, had a flair for the spectacular, and shared the Queen's love of drama and music. It was obvious from almost the beginning of her reign that he was to be her favourite. Within the first year she had lavished titles, properties, and money on him, and had spent more time with him than with anyone else. Tongues wagged at their intimacy, and it was said that they were lovers, that Elizabeth was even carrying his child. However, while such stories can easily be dismissed, it is almost certain that they were, by this time, very much in love. Perhaps it was an inevitability. They knew each other better than they knew anyone else, had suffered very similarly in the past, and perhaps most importantly, respected and trusted one another. Like any couple they argued, but Robert always treated her with the respect her position demanded, and she would allow him to behave and speak with her in ways that she would allow no one else.

From this time forward there are many accounts and letters written about or to Robert Dudley. He was supposedly full of life and outrageous fun. Courtiers dubbed him "the Gypsy" for his dark eyes and hair. Elizabeth her self supposedly had a playful nickname, calling him "two-eyes".

Many who disliked him often complained that he was arrogant. It is also well documented, by the man himself, that he loved to spend money on lavish gifts and he had many possessions. By 1560, he was the most unpopular man in Elizabethan England, and remained so until his death. It seemed no one, except the Queen and his family, had a good word to say about him. No matter what he did, he was never able to shake this hostile public opinion, and it haunted him for the rest of his life. It has also coloured his reputation over the past 400 years. Elizabeth was an astute judge of character, and it is unlikely that he would have been able to maintain pretended affection for thirty years. He seems to have genuinely loved the Queen, and his behaviour at times testifies to genuine affection, rather than calculated manipulation. Had the political circumstances been more favourable, the Queen may well have married him. Privately, she told him she would marry no one else.

The insuperable bar to their marriage lay in the circumstances of Amy's death. She was found dead of a broken neck at the bottom of a stair case, and many pointed the finger at Robert. For a long time people had been saying he meant to kill her so that he would be free to marry the Queen. The dissolving of a legally valid marriage was virtually unknown in Tudor times, and so divorce was not really an option for the couple. Certainly it would have made the legitimacy of any children Elizabeth had by Robert if they married, dubious. Whatever Robert's personal feelings for Amy may have been, it is incredibly unlikely that he had anything to do with her death.

Amy was probably terminally ill with breast cancer as she was said to be suffering from a "malady in the breast". Recent medical advances suggests that a woman in this condition may have a spontaneous bone fracture, and walking up the stairs of her house in Oxfordshire, may have been enough to cause a spontaneous fracture in her spine, that proved fatal. Such understandings were beyond the medical knowledge of the Elizabethans, however, and everyone, including Robert himself, thought that Amy had been murdered. Had the Queen married him, people would have believed the gossip, even that Elizabeth herself had been involved. Also, as Robert was hated only because of his monopoly of royal favour, promoting him to prince consort may have provoked a rebellion against the Queen. However, for some years, it seems that both entertained the possibility of marriage, and Robert in particular continued to hope for it for many years. He did not remarry until 1578 when it seemed certain that the Queen would not marry him.

In 1575, during the glorious entertainments at Kenilworth Castle, Warwickshire, Robert made his last proposal of marriage to the Queen. As she had done in the past, she refused him.

Elizabeth made him a member of her privy council with opposition from the other members in Oct of 1562 and appointed him Baron of Denbigh 28 Sep and Earl of Leicester 29 Sep 1564.

Robert Dudley

in about 1560
by Steven van der Meulen
Trustees of the Wallace Collection

Robert Dudley

in about 1565
by Steven van der Meulen

Yale Center for British Art


Robert Dudley Earl of Leicester

by an Unknown Artist, c.1575

National Portrait Gallery, London

Robert, Earl of Leicester

Vellum on card

by Nicholas Hilliard 1576

National Portrait Gallery

Robert Dudley Earl of Leicester

by an Unknown Artist, c.1580

National Portrait Gallery, London

Robert Dudley Earl of Leicester

Circle of William Segar

The Courtly Image, Weiss Gallery, 2002

Robert Dudley Earl of Leicester

Workshop of Jan Antonisz. van Ravesteyn; ca. 1609-1633

Oil on panel, 30 × 24 cm (11.81 × 9.45 in)

Robert Dudley
At Parham, West Sussex
Years later, in 1573, Dudley had an affaire with Douglas Howard, daughter of William, lord Howard of Effingham, sister of Charles Howard, after Earl of Nottingham, and widow to Lord John Sheffield. It was observed that not only the widowed Lady Douglas Sheffield, but also her sister, Frances Howard, who was unmarried, were 'very far in love with him' and also that the Queen 'thinketh not well of them, and not the better of him' for encouraging their attentions. 'You must think it is some marvellous course, and toucheth my present state very near, that forceth me thus to be cause almost of the ruin of my own house', he observed in a letter to Lady Sheffield, explaining that he was uniquely situated, and unable to take a wife without causing 'mine utter overthrow'. The secrecy of Leicester's second marriage to Lady Sheffield may well have been a matter of great consideration, given that he did not wish to upset his close association with his childhood companion, Elizabeth. Ironically, Robert Dudley's only surviving male heir, Robert, was born on 7 Aug 1574 to Lady Douglas, thus he died with no successor to his name. In 1578, he secretly married the Queen's cousin, Lettice Knollys, Countess of Essex, who had been married to Walter Devereux, Earl of Essex. He may well have been in love with her, as she was certainly a very vivacious, attractive woman, but in all probability he married her because she was pregnant, and was pressurised into making an honest woman of her by her influential family. Legend has it that Robert kept his marriage from the Queen for a year and by the demands of Knolly's family this second marriage was officially acknowledged, but recently this has been brought into question. It is more likely that the Queen knew of his marriage shortly after it took place. It would have been very difficult for him to hide his marriage, as his enemies would have been very eager to tell the Queen about it.
Lettice miscarried of their first child, but in 1579/80 gave birth to a son, who she also named Robert. However, the child was not healthy and died 19 Jul 1584. Robert was devastated. He had idolised his little son, and with his death, died his dream of perpetuating his dynasty. He had another son, also named Robert, from his affair with Lady Sheffield, but he was illegitimate, and ilegitimate children could not usually inherit their father's titles. Lady Sheffield later claimed that Robert had married her in a secret ceremony, and while this is still a popular belief, there is no evidence to support her claims, and Robert always denied it. In the seventeenth century, she brought forward a court case to try and prove that he had married her, but she was unsuccessful. Perhaps her motivation was the desire to secure for her son the estates of the Earl. It is interesting that she did not bring forth this case following Robert's death, or in the lifetime of the Queen. But while Robert's son could not inherit, Robert was a good father to him, and provided him with a respectable education. His son was very talented, and grew up to be quite a romantic figure, eloping to Europe with a maid of honuor of the Queen after her death, despite having a wife and five daughters.

In 1585, Robert was made commander of the English forces in the Netherlands. The Netherlands were revolting against the rule of Felipe II, and the English were helping the Dutch in their campaign. Robert stayed in the Netherlands until 1587, although he did return to England during the Mary Queen of Scots crisis of 1586/7, and was present in England when Mary was executed. English involvement in the Netherlands was not particularly successful, and when he did return permanently, he received a lot of criticism for his actions there. Although Elizabeth herself had not always been pleased by what he had done, she would not hear a word said against his efforts there.

The tomb of Robert Dudley, Baron of Denbigh, "the Noble Impe"

Beauchamp´s Chapel, St. Mary Collegiate Church, Warwick
In 1588, when the Spanish sent their fleet against England, Robert was put in charge of the land army, and he organised Elizabeth's famous visit to Tilbury.
On 28 Jul 1588 Leicester at Tilbury wrote to Francis Walsingham in London about the Earl of Oxford:
'...My Lord of Oxford... returned again yesterday by me, with Captain Huntley as his company. It seemes only his voyage was to have gone to my Lord Admiral; and at his return thither he went yesternight for his armour and furniture. If he come, I would know from you what I should do. I trust he be free to go to the enemy, for he seems most willing to hazard his life in this quarrel...'
Has heard that the Spanish Fleet is off Boulogne and in sight; Out of the new supply of 5,000 he intends to send 500 of the Essex men to Harwich. Thinks the Londoners will be of little service; he knows what burghers are well enough. From this letter it is evident that Oxford had only now taken steps to obtain his armor.
On 1 Aug Leicester wrote again to Walsingham:
'...I did, as Her Majesty liked well of, deliver to my Lord of Oxford her gracious consent of his willingness to serve her; and for that he was content to serve her among the foremost as he seemed. She was well pleased that he should have the government of Harwich, and all those that are apointed to attend that place - which should be two thousand men - a place of great trust and of great danger. My Lord seemed at the first to like well of it. Afterward he came to me and told me he thought the place of no service nor credit; and therefore he would to the Court and understand Her Majesty's further pleasure; to which I would not be against. But I must desire you - as I know Her Majesty will also make him know - that it was good grace to appoint that place to him, having no more experience than he hath; and then to use the matter as you shall think good. For my own part being gladder to be rid of him than to have him, but only to have him contented; which now I find will be harder than I took it. And he denieth all his former offers he made to me rather than not to be seen to be employed at this time...'
Leicester's papers from this time include a chart of the Thames estuary, with Harwich the most northerly point shown. Clearly, Harwich was deemed important by Leicester.
Leicester finished off his letter with a stinging postscript:
'...I am glad I am rid of my Lord Oxford, seeing he refuseth this, and I prey you let me not be pressed any more for him, what suit soever he make... Speaking for myself, I am prepared to believe that Oxford's motive was pique rather than cowardice or subversion; but none of these possible motives speaks well for him...'
However, by now he was not a well man, probably suffering from stomach cancer, and his days were numbered. Following the defeat of the Armada, he travelled to Buxton to try and take the healing waters there, but he never made it. He died at his house in Oxfordshire on the 4th Sep, 1588. Elizabeth was devastated at the loss of her old friend and companion, and reputedly locked herself in her apartment for hours, if not days. She treasured the letter he had sent her only days before his death, and wrote on it "His Last letter". She put it in her treasure box, and it was still there when she died 15 years later.
But few shared her grief. His enemies said that the rejoicing at the defeat of the Armada was nothing compared to the rejoicing at the news of Robert's death. He was given a funeral befitting a nobleman, and buried in the Beauchamp Chapel of St Mary's Church, Warwick.
Robert Dudley Tomb
at St. Mary's Church, Warwickshire
His title of Master of the Horse went to his stepson, Robert, Earl of Essex. His land was inherited by his illegitimate son and his wife, Lettice. Eventually, his stepson would become the aging Queen's favorite, though he would never be as highly regarded as Leicester.
Robert Dudley's armor from c. 1575
The Royal Armouries

Robert Dudley's carving

at the Tower of London

A sketch of Dudley done as a companion piece to one of Elizabeth
The painting based on this sketch no longer exists
By Federico Zuccaro in 1574
British Museum
Books about Robert Dudley:
Haynes, Alan White Bear: Robert Dudley, The Elizabethan Earl of Leicester. London: Peter Owen Publishers, 1987.
Jenkins, Elizabeth. Elizabeth and Leicester. New York: Coward-McCann, Inc., 1961
Rosenberg, Eleanor. Leicester: Patron of Letters. New York: Columbia University Press, 1955.
Strong, R.C. and J.A. Vandorsten. Leicester's Triumph. London: Oxford University Press, 1964.
Kendall, Alan Robert Dudley, Earl of Leicester
Maxwell, Robin. The Queen's Bastard: A Novel - , 1999.
Peck, Dwight ed. Leicester's Commonwealth: The Copy of a Letter Written by a Master of Art of Cambridge, 1584 and Related Documents.
Adams, Simon ed. Household Accounts and Disbursment Books of Robert Dudley, Earl of Leicester, 1558-1561. ,1996
Wagner, G.F. ed. Voyage of Robert Dudley: Afterwards Styled Earl of Warwick and Leicester (Hakluyt Society Works Ser.:No 2 Vol 3
Wilson, Derek A. The bear's whelp: the autobiography of Robert Dudley, Duke of Northumberland, Earl of Warwick and Earl of Leicester in the Holy Roman Empire,
also, Sweet Robin: A Biography of Robert Dudley Earl of Leicester
| | |
| --- | --- |
| to Bios Page | to Family Page |
| to Peerage Page | to Home Page |