Thomas HOWARD
(1st E. Suffolk)
Born: 24 Aug 1561
Acceded: 21 Jul 1603
Died: 28 May 1626, Suffolk House, Charing Cross, London
Buried: 4 Jun 1626, Walden, Essex, England
Notes: Knight of the Garter. The Complete Peerage vol.XIIp1,p.462-466 & vol.VI,p.590.
Father: Thomas HOWARD (4° D. Norfolk)
Mother: Margaret AUDLEY (D. Norfolk)
Married 1: Mary DACRE BEF 9 May 1577
Married 2: Catherine KNYVETT (C. Suffolk) ABT 1583
Children:
1. Theophilus HOWARD (2º E. Suffolk)
2. Thomas HOWARD (1° E. Berkshire)
3. Henry HOWARD
4. Catherine HOWARD (C. Salisbury)
5. Frances HOWARD (C. Essex/C. Somerset)
6. Edward HOWARD (1° B. Howard of Escrick)
7. Elizabeth HOWARD (C. Banbury)
11. John HOWARD
12. Emily HOWARD
13. Gertrude HOWARD
Associated with: Alice BRETTON
Children:
14. Henry HOWARD
15. John HOWARD
16. Joan HOWARD
17. Mary HOWARD
18. Alice HOWARD
19. Elizabeth HOWARD
20. Francis HOWARD
---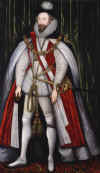 Thomas Howard, first Earl of Suffolk
---
Son of Thomas Howard, fourth Duke of Norfolk, by his second wife, Margaret, dau. and heiress of Sir Thomas Audley, first B. Audley of Walden. Sir Thomas was educated at St. John's College, Cambridge
, with his brothers
Phillip
and
William
. He was attainted at the time of his father's execution, but his rights were restored in 1584.
In 1583 he obtained the guard of his cousin Frances, dua. of Thomas, first lord Howard of Bindon.
He accompanied as a volunteer the fleet sent to oppose the Spanish Armada, and in the attack off Calais displayed such valor that he was knighted at sea by the Lord High Admiral, Charles Howard, on 25 Jun 1588. He was soon made Captain of a man-of-war. On 5 Mar 1591, he was appointed commander of the squadron which attached, in the face of overwhelming difficulties, the Spanish treasure ships off the Azores. On his return from battle he was created a Knight of the Garter on 23 Apr 1597. The following Jun he sailed as Vice Admiral of the fleet dispatched to the Azores.

Thomas Howard, first Earl of Suffolk
His ability and courage caught the attention of Queen Elizabeth I, and he became a great favorite at court. In her letters to him she referred to him as her "good Thomas". He was seriously ill in the autumn of 1597, and was created Baron Howard de Walden by writ of summons. While he recovered from his illness, he was unable to attend Parliament until Jan 1598. On 2 Feb 1598, he was admitted an honorary member of Gray's Inn. Still active in privateering ventures, he never obtained significant profit from them. At this time, he was also sworn High Steward of Cambridge University, and would hold the post until 1614. Became Lord Lieutenant of County Cambridgeshire and the Isle of Ely the following in 1598. In 1599, he commanded the fleet in The Downs
He was sworn High Steward of the University of Cambridge in Feb 1601; Lord Lieutenant of Cambridgeshire on 26 Jun 1602; and, acting Lord Chamberlain of the Household on 28 Dec. In 1601 he was commander of the forces that besieged the earl of Essex in his house, and was a member of the jury which tried him and Southampton. Appointed Constable of the Tower of London on 13 Feb 1601.
On one of her famous "progresses", in 1603, Queen Elizabeth was sumptuously entertained by Sir Thomas at Charterhouse. For an account of another of her progresses, this time at Long Melford, see "Two Hundred Men in Velvet".

Upon the accession of James I (1603), he was created earl of Suffolk and later held a number of official posts. He received an Master of Arts from Cambridge in 1605. Discovered the Gunpowder plot against King James I. He continued to rise, culminating in being named Lord High Treasurer of England, on 11 Jul 1614, an office he would hold until 19 Jul 1619.

His daughter, Frances Howard, and her husband, Robert Carr, Earl of Somerset, were tried and convicted (1616) in the murder of Sir Thomas Overbury.

In the autumn of 1618 grave irregularities were discovered in the treasurer. Sir Thomas was suspended from his office, being accused of embezzlement, defrauding the King, and extorting money from the King's subjects. Once again a Howard was in danger of execution.

Catherine, Lady Suffolk, was rumored to have been Robert Cecil's mistress, but there seems little foundation for the story. Catherine was in the employ of the King of Spain; she received £1,000 per year for acting on his behalf. Catherine, was indicted for extorting money from persons having business at the treasury through Sir John Bingley, Remembrancer of the Exchequer. She was of strong character and undoubtedly used his high office to enrich herself. During the proceedings in the Star Chamber, she was compared to an exchange woman who kept her shop while her creature, Sir John Bingley, cried "Whad'ye lack?"

Sir Thomas and Catherine were found guilty and fined and ordered to restore all money wrongfully extorted and were sentenced to be imprisoned in the Tower from which they were released after ten days. Popular opinion of the day placed most of the blame squarely on the shoulders of Catherine. Her beauty was remarkable but in 1619 an attack of small pox destroyed any vestige of loveliness.

Thomas Howard, first Earl of Suffolk

Catherine Knyvett, C. Suffolk

by William Larkin
Sources:
"Dictionary of National Biography," Volume 10, p. 71-72
| | |
| --- | --- |
| to Bios Page | to Family Page |
| to Peerage Page | to Home Page |