William HERBERT
(1st E. Pembroke)
Born: ABT 1506, Wales
Acceded: 11 Oct 1551
Died: 17 Mar 1569/70, Hampton Court, London, Middlesex, England
Buried: 18 Apr 1569, St.Paul's Cathedral, London, England
Notes: Knight of the Garter.
Father: Richard HERBERT (Sir)
Mother: Margaret CRADOCK
Married 1: Anne PARR (C. Pembroke)
Children:
1. Henry HERBERT (2º E. Pembroke)
3. Anne HERBERT
Married 2: Anne TALBOT (C. Pembroke)
---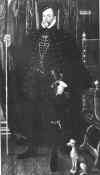 ---
The Complete Peerage vol.X,pp.405-409. killed a man in a brawl in Bristol, escaped to France, returned to England 1534 and mar soon after, rose with the Parrs when Catherine mar Henry VIII 1543, knighted 1543, had been granted Wilton Abbey and lands by Henry VIII by 1544 [Wilton Abbey, on the River Nadder, nr Salisbury, Wiltshire, 9th cent. nunnery, replaced by 12th cent. Abbey, Benedictine nuns, dissolved 1536], he pulled down Abbey, built first Wilton House 1540s; he also acquired the manors of Washern, Bulbridge and Ditchampton at about the same time. A guardian of the young Edward VI after death of Henry VIII 1547, K.G. 1549, cr first as Baron Herbert of Cardiff (10 Oct 1551) then on the following day as 1st Earl of Pembroke by Edward VI 1551 by the influence of his fellow Protestant John Dudley, Duke of Northumberland, married his son to Lady Catherine Grey 1553 while Dudley married his son to Lady Jane Grey, managed to distance himself from Grey family after their fall.
Born 1506/7 2nd son of Sir Richard Herbert of Ewyas, Herefs. by Margaret, daughter and heir of Sir Matthew Cradock of Swansea, Glam.; brother of George. Married 1st, by 1540, Anne (d. 20 Feb 1552), daughter of Sir Thomas Parr of Kendal, Westmoreland and had 2 sons, Henry and Edward and 1 daughter; married 2nd, by 19 May 1552, Anne, daughter of George Talbot, 4th Earl of Shrewsbury, widow of Peter Compton (d. 30 Jan 1544), of Compton Wynyates, Warws., s.p. Knighted 1543; K.G. nominated 1 Dec and installed 13 Dec 1549. Created Baron Herbert of Cardiff 10 Oct 1551, Earl of Pembroke 11 Oct 1551.
Gentleman of the Household before 1534, privy chamber by 1540-death; esquire of the body by 1535; jt. attorney-general, Glam. (with John Bassett II) 1535-51, (with unknown) 1551-55, (with David Evans) 1555-68, (with Thomas Morgan) 1568-death; approver and overseer, Glam. and Morganwwg 1535; clerk chancellor, lordship of Cardiff, Glam. 1535; sewer by 1540; gentleman pensioner 1540; Lt. Pewsham & Blackmore forests, Wilts. 1541; Capt. Aberyswyth and Carmarthen castles 1543; ordinary, the chamber by 1545; steward, duchy of Lancaster, Wilts. 1546; many other offices... See "History of Parliament for full listing.
William Herbert's father was a bastard son of the Yorkist Earl of Pembroke who had been killed at Banbury in 1469 fighting against Warwick the King-maker. The younger brother of George Herbert he was born in Monmouthshire according to John Aubrey, who calls him 'a mad fighting young fellow... [who] was a servant to the house of Worcester and wore their blue coat and badge'. Aubrey describes an incident, apparently at midsummer 1527, when Herbert got involved in a brawl at Bristol and on being arrestd killed a man; he escaped from the town and eventull succeeded in reaching France, where he joined the royal army and 'showed so much courage and readiness of wit in conduct that in short time be became eminent and was favoured' by Francois I, who thought highly enough of him to recommend him to Henry VIII. How much truth there is in all of this is hard to tell but, although Herbert seems to have been out of England for several years after 1527, his detractors later commented on his total ignorance of French. When he reappears in 1535 he is found taking over some of the local offices of his kinsman Henry, 2nd Earl of Worcester, offices which were to give him much influence in Glamorgan: two years later he leased Abergavenny priory, Monmouthshire. He also made progress at court: granted an annuity of 46.13.04 in 1537, he was by 1540 a gentleman of the privy chamber and a member of the new royal bodyguard.
It was in May 1540 that Herbert received his first important grant of property, a 21-year lease of the site of Wilton Abbey; in the following Jul he was appointed chief steward of all the abbey's lands. Herbert was to make Wilton his home, and his return for the borough to the Parliament of 1542 was both a symbol and a portent. In Apr 1542 the abbey was among a number of properties in Wiltshire granted for life to Herbert and his wife; in Jan 1544 the life grant was converted into a freehold, inheritable in tail male, and at the same time the couple acquired the borough of Wilton. To this nucleus were added during these years, besides other lands in Wiltshire, properties in Chesire, Devon, Dorset, the Isle of Wight, Somerset and Worcestershire. In Mar 1545 came the first inroad into Glamorgan, a lease of two lordships which had belonged to Jasper Tudor; it was followed in Aug 1546 by the leasing of the lordships of Miskyn and Glynhondda and the borough of Llantrisant, in Sep 1546 of the lordships of Neath Ultra and Neath Citra, the manor and borough of Neath and the town of Briton Ferry, and in the following Dec of another six Glamorgan lordships. This prodigious accumulation was the dividend of Herbert's marriage to the sister of Henry VIII's last Queen, which also earned him a knighthood in 1543, a place of honour in the campaign of 1544 and the privilege of reporting the capture of Boulogne to his sister-in-law, and finally a nomination as one of the 12 executors of the King's will and a legacy of 200 pounds.
| | |
| --- | --- |
| In the early years of Edward VI's reign Herbert was a leading Privy Councillor and a supported of the Protector Somerset, being named on the two surviving patents for the Protectorate. He seems to have co-operated with Somerset's brother, Admiral Seymour, in securing the return of their followers to Parliament. Herbert and Seymour had sat together in the Commons as knights of the shire for Wiltshire in 1545, and Seymour's marriage to Catherine Parr in the summer of 1547 had made them kinsmen. Many of their parliamentary clients were members of Catherine Parr's entourage. Herbert was a signatory of four Acts which were passed during the third session of the Parliament of 1547, those for a general pardon, for a churchyard in West Drayton, for the restitution of Sir William Herbert, and for the fine and ransom of the Duke of Somersert. | |
Herbert's alliance with John Dudley, Earl of Warwick, began in 1549, shortly after he had helped to crush the western rebellion, where with Sir John Russell, Baron Russell, he was in command of the royal forces. It was their refusal to move to the support of Somersert in Oct that tipped the scales against the Protector.
With his brother-in-law the Marquess of Northampton and with Warwick he became one of the leading men in the government who were determined to get rid of Somersert.
On Oct 4, 1551 Warwick became Duke of Northumberland and a week later Herbert was created on successive days Baron Herbert of Cardiff and Earl of Pembroke.
In Aug 1552 he was host to Edward at Wilton, and in May 1553, on the same day as Lady Jane Grey married Guildford Dudley, he concluded the marriage of his eldest son Henry to Lady Catherine Grey. During 1552 relations between Pembroke and Northumberland had cooled and when in Jul of that year Northumberland took him northwards on business some said 'it was because [one] does not trust the other' His failure in the autumn to answer a summons to court lent colour to these rumors, which persisted until the following spring. Whatever their origin, there was no outward dissent between the two men, and Pembroke supported the device to put Jane on the throne. If she had remained there he would have had a similar relationship to the crown as that he enjoyed after 1543; indeed Northumberland later tried to ascribe the idea of altering the succession to Pembroke.
Althouth Pembroke was with Jane at the Tower during her brief interlude, he was present when the lord mayor of London read Mary's proclamation at Cheapside. Retained on the Privy Council, he was at first suspect but cleared himself of the remaining doubts when he crushed Wyatt's rebellion. He had helped to organize the parliamentary opposition to the Spanish marriage and, until he was rebuked by the Queen, he had supported the Earl of Devon as a suitor for her hand.
To the concern of many present [in the Commons] he spoke out in support of Sir Edward Hastings whose advocacy of the bill had enraged many Members. For contradicting him, he dismissed 'Master Paretes [presumably Sir John Perrot], his most favourite and familiar gentleman', whereupon 'many other gentlemen in the Earl's service took their leave of him'.
Pembroke made his will on 28 Dec 1567 providing for his sons and step-daughter Anne Talbot, and appointing as executor his son Henry and as overseers Sir Robert Dudley, Earl of Leicester, Sir Walter Mildmay, Sir Nicholas Throckmorton and Gilbert Gerard.
| | |
| --- | --- |
| to Bios Page | to Family Page |
| to Peerage Page | to Home Page |