William KNOLLYS
(1st E. Banbury)
Born: ABT 1544/5, Rotherfield, Gray's, Oxon, England
Died: 25 May 1632, Paternoster Row, London, England
Buried: Rotherfield Grey, Oxfordshire, England
Notes: Knight of the Garter.
Father: Francis KNOLLYS (Sir Knight)
Mother: Catherine CAREY (Chief Lady of Bedchamber)
Married 1: Dorothy BRAY (B. Chandos of Sudeley) AFT Mar 1573
Married 2: Elizabeth HOWARD (C. Banbury) 23 Dec 1605
Children:
1. Nicholas KNOLLYS (2° E. Banbury) (b. 1628 - d. 1645)
2. Henry KNOLLYS (3° E. Banbury) (b. 1630 – d. 1674)
---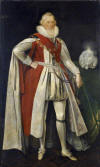 William Knollys, Viscount Wallingford and Earl of Banbury
by Daniel Mytens
---
He was the son of Sir Francis Knollys, and his wife, Catherine Carey. Viscount Wallingford. Knollys was MP for Tregony from 1572 and 1583 and for Oxfordshire from 1584 to 1586, 1592 to 1593 and 1601. In 1584 he was made castellan of Wallingford Castle. In 1596, he was appointed Lord Lieutenant of Berkshire, which position he held until his death.
William rebuilt Caversham Park where he often resided. He was first married to Dorothy Bray, daughter of Edmund Bray, 1st Baron Bray by his wife Jane Halliwell, and widow of Edmund Brydges, 2nd Baron Chandos. Dorothy was 20 years his senior.
About 1595 Mary Fitton (b. Jun 1578 - d. 1647), the daughter of Sir Edward Fitton, by his wife, Alice Holcroft, became a maid of honour to Queen Elizabeth. Her father recommended her to the care of Sir William Knollys, comptroller of the Queen's household, a family friend. Sir William promised, "I will be as careful of her well doing as if I were her own true father". But Knollys, though fifty and already married, soon became suitor to Mary Fitton, in hope of the speedy death of the actual Lady Knollys. He wrote of his passion to her sister, and when made godfather to Mary sister's daughter (Anne Newdigate) he named the child Mary. His infatuation with Mary was the cause of much court laughter:

Party Beard, party beard...
...the white hind was crossed:
Brave Penbroke struck her down
And took her from the clown

went one song about him. He was derided as "Party Beard" because his beard was three colors: white at the roots, yellow mid-way and black at the ends. In 1599, Mary had to quit the court because of a mixture of physical and mental illnesses that Elizabethans called "the mother" or "suffocation of the mother" (a form of hysteria). When she returned to court, she refused Knollys. He courted her even after she had an illegitimate child with William Herbert, Earl of Pembroke, but she was not interested and after his wife Dorothy died (31 Oct 1605 at Minty, buried at Rotherfield Greys in Oxfordshire) he re-married quickly.

Mary Fitton

by a follower of George Gower, c.1595

(Royal Academy of Art)
On 23 Dec 1605, Knollys married Elizabeth Howard, the daughter of Thomas Howard, 1st Earl of Suffolk. Elizabeth remarried shortly after Knollys' death to Edward Vaux, 4th Baron Vaux of Harrowden. There is some debate as to whether Elizabeth's two sons, Edward and Nicholas (titular 2nd and 3rd Earls respectively), were William's offspring, as her first son was born when William was 80 years old. As a result, the House of Lords refused to seat them as Earls of Banbury and considered them to be illegitimate sons of Elizabeth and Edward Vaux.